Even if you are on a tight budget, you can transform your living room to make it look like a million bucks easily by enlisting the help of sheer curtains. Sheer fabric can be used as a stand-alone window treatment, or they may be layered to bring an even greater flair for fashion to your home.
There are certain tricks to make your space feel even more elevated without breaking the bank, and the correct elements help your design come together to feel like more of a high-end product and add luxuriousness to it without the decor and furniture being expensive as well. The correct balance and options will be a mini makeover for your living room to update it and bring in light and life.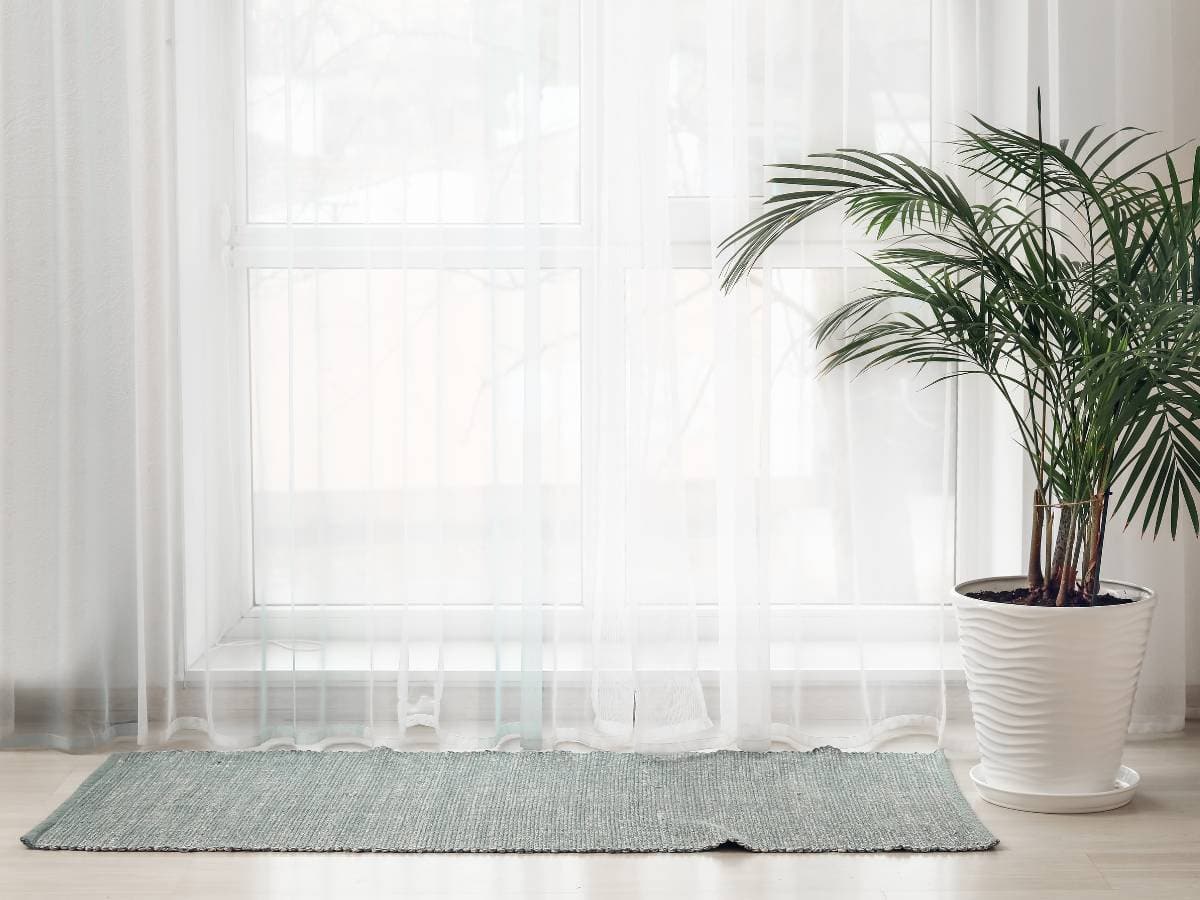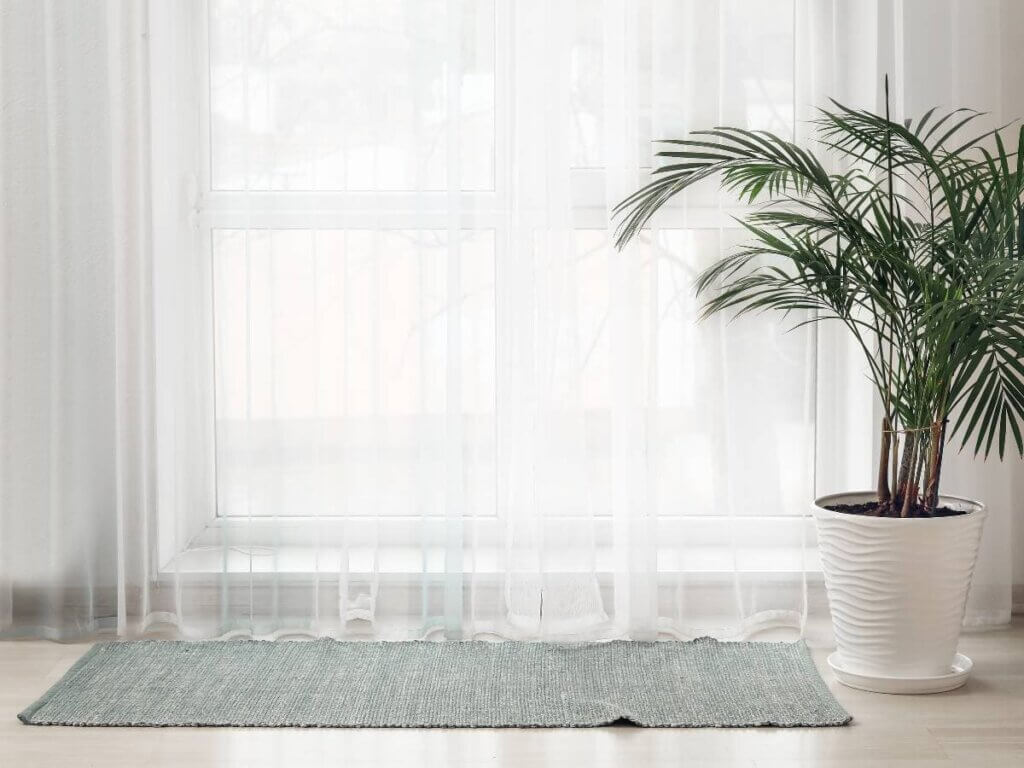 The Process of Choosing Sheer Curtains for Your Living Room
When selecting the perfect sheer curtains, it's important to understand the different types of fabrics available. Linen, cotton, silk, and synthetic fabrics are all popular choices for sheer curtains. Linen offers a natural and rustic look, while cotton is durable and easy to care for. Silk offers a luxurious and elegant feel but can be more delicate and high-maintenance. Synthetic fabrics, such as polyester, are a practical and affordable choice that can mimic the look of natural fabrics.
Once you've decided on the type of fabric, the next step is to select the right color and texture for your curtains. For an expensive and sophisticated look, opting for neutral and earthy tones like beige, cream, or gray is best. These colors complement any decor style and create a calming and serene ambiance. To add texture and depth to your curtains, consider selecting sheer curtains with embroidered patterns or subtle metallic accents. These details can add a touch of glamour and elegance to your living room.
Consider Sheer Living Room Curtains for Beauty
You can now find a large selection of fabrics on the market for custom sheer curtains. Years ago, the main choice used was a delicate lace fabric, generally in solid white, shades of white and pastel colors. Lacey fabrics are still popular today, but there is a large selection of colors and color combinations available in custom fabrics with beautiful patterns for light filtering. 
Sheer linen and semi-sheer fabrics with an updated ombre print on them are also available to add depth and texture to your living room. Chiffon and voile are also popular fabrics that can be found in many bright and beautiful colors while still adding the softness to your living room at the same time.
How to Style and Hang Sheer Curtains for a Luxury Appearance
Professional designers have several ideas that trick the eye into thinking your entire living room is larger by making you think the windows are larger than they are.
Properly measuring and hanging your sheer curtains is crucial for achieving an expensive look. Hanging them high and wide can create the illusion of a larger window and higher ceiling, making your living room appear more spacious and grandiose. When it comes to incorporating sheer curtains into your decor, it's important to create a cohesive color scheme with other luxurious fabrics and accessories. Velvet pillows, a plush area rug, and metallic accents can complement your sheer curtains and create a stylish and opulent look.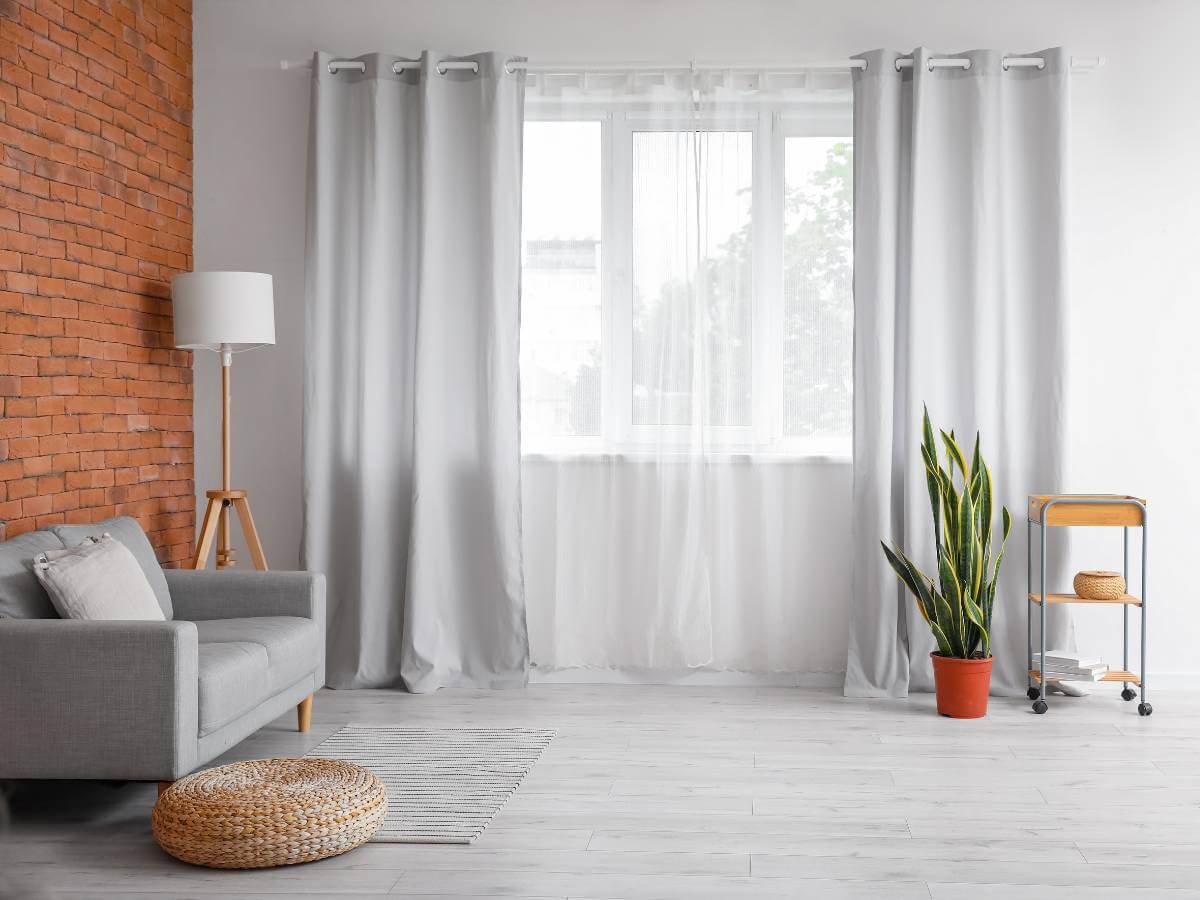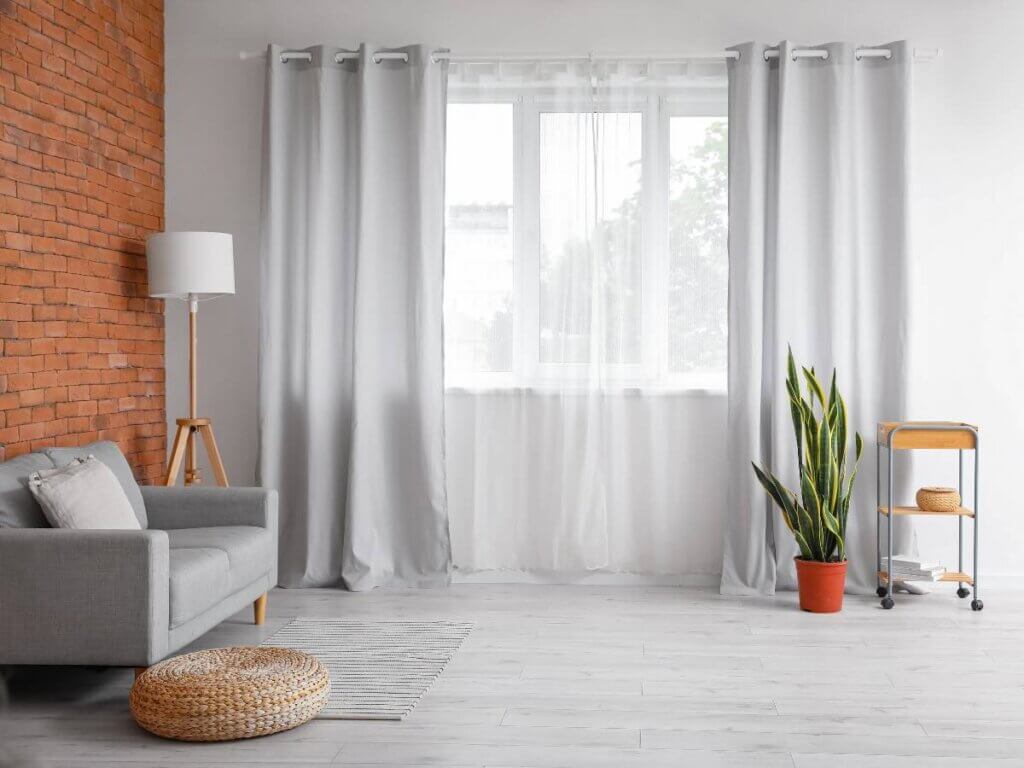 Choosing a simplistic heading style, such as a rod pocket header on your sheer curtains, is quite popular. Leaving a bit more fabric at the top over the rod pocket will add a ruffled appearance for additional softness to smooth the hard lines and add balance. This style of the curtain allows you to use a highly decorative curtain rod with intricate finials on the ends to display them and add over-the-top styling in many colors and materials to match your decor seamlessly.
The addition of more fabric for the width will also add to the fullness of the entire sheer panels and make them look more luxurious from top to bottom with more soft folds. Usually, the width is at least two times the width of the window. 
Hanging your curtain rod just below the ceiling and having the length of your sheers long enough to be ceiling to floor length with a soft pool of fabric on the floor adds elegance and height to your window and makes your windows and ceilings look taller than they actually are. 
If your translucent fabric curtain rod is hung several inches wider than the exterior of the window casing, it will add extra width to the window width and give you more of a look of elegance.
Color Choices for Sheer Curtains
Neutral, solid colors are always popular for living room sheer curtains. However, you can consider a brighter color if your living room has few other colors in it. Choose a color that resonates with you and mimics the color of your furnishings to tie the room in together and create cohesiveness. 
If your living room is already colorful with bright accents, or focal points or painted brightly, it's best to go with neutral colors for your sheer panel curtains.
Layering Window Treatments for Glory
Consider adding a scalloped bottom valance at the top of the curtains for a finishing touch that adds more formality to your living room to update it. If your sheers are a solid color, choose a coordinating pattern, and if your sheer panels have color in them, choose one of the colors, such as pink, in a delicate rose pattern for your valance.
You may also choose a designer's delight and add decorative side panels made of thicker fabric to your interior design to bring more texture and depth to your living room for a traditional and classic appeal. 
Consider layering your sheer curtains over heavier drapes or curtains to create a more dramatic and high-end look. This can add depth and dimension to your window treatment and create a luxurious, textured look. Additionally, adding decorative tiebacks or tassels to your sheer curtains can add a touch of elegance and glamour to your curtains while also allowing you to control the amount of light that enters the room.
Lastly, it's important to consider styling your living room with sheer curtains for different seasons. During winter, you can swap out your sheer curtains for heavier drapes to create a warm and cozy atmosphere. Meanwhile, in the summer, you can opt for lightweight, airy curtains that allow natural light to filter through, creating a breezy and refreshing ambiance.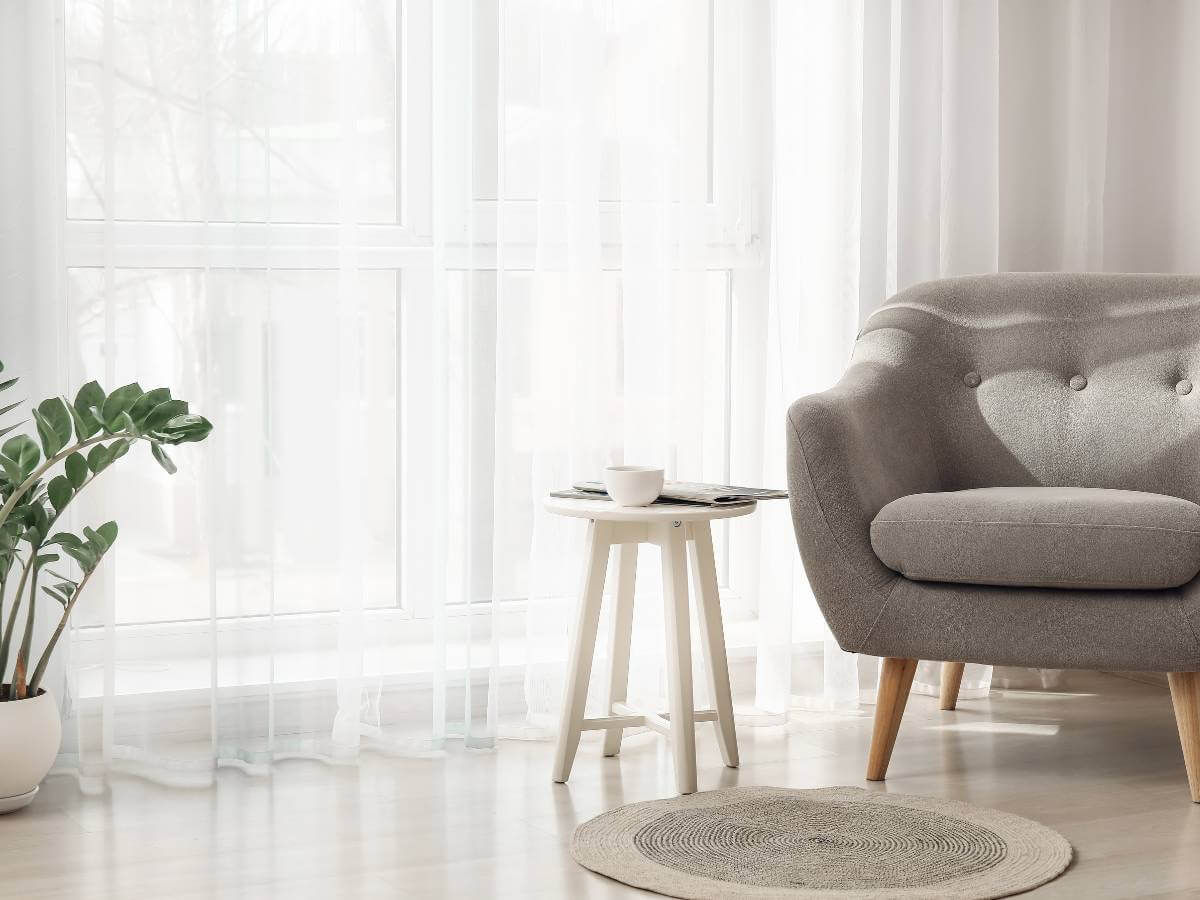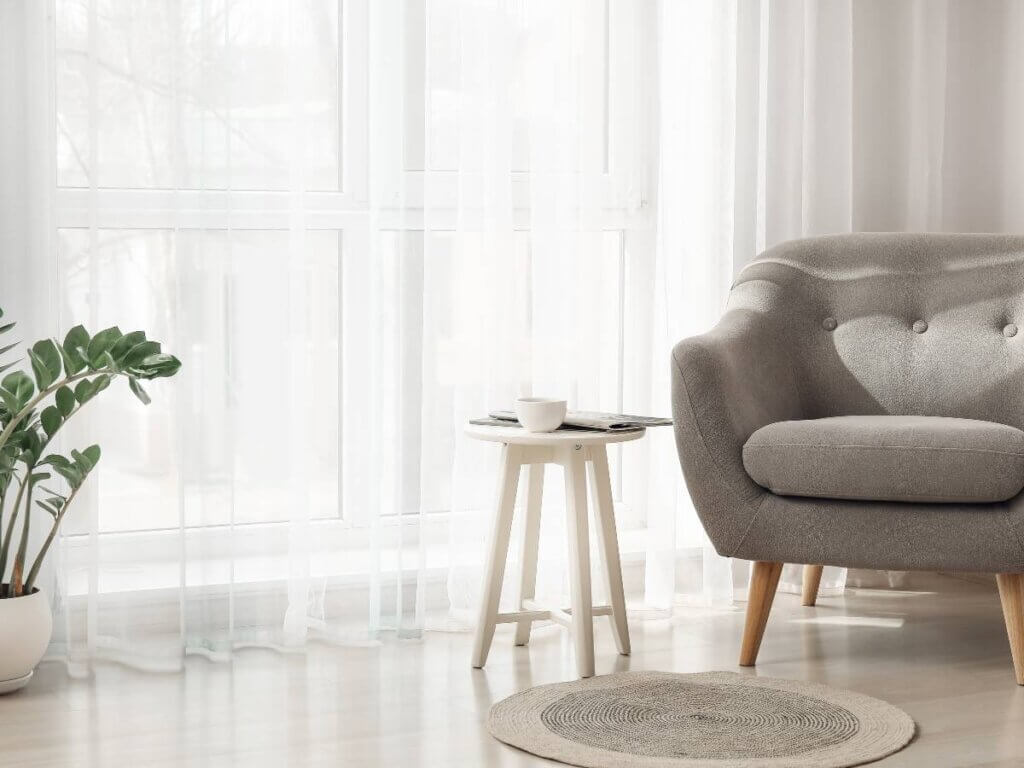 Upgrading sheer curtains for your living room can create an elegant though soft focal point in your home for a luxury look. At OM Drapes Design, we carry the largest selection of sheer fabrics in the Huntington Beach area of California. We can create a dream home for you for all to marvel at when the sun shines through the sheer curtains in your living room and creates a soft and ethereal appearance as it bathes your home in fresh golden sunlight. You will never get tired of seeing or experiencing this look, and we can make your windows shine. Contact us for a complimentary consultation today to experience the OM Drapes Design difference.