In our ever-connected world, the evolution of smart devices has reshaped our homes, making them more convenient and comfortable. Among these innovations, electric window coverings stand out, offering both aesthetics and functionality. Imagine effortlessly adjusting your window blinds with a simple voice command while your hands are full—this is the magic of voice-controlled window blinds.
These intelligent window coverings blend seamlessly into your routine, enhancing your living space with hands-free operation. Join us as we explore the world of electric window coverings, revealing the transformative impact of integrating voice commands into your home.
Welcome to the future, where modern convenience meets effortless elegance.
Understanding Voice-Controlled Blinds
Voice-controlled blinds, a staple of modern smart homes, have revolutionized how we manage natural light and privacy. You can adjust your window coverings without lifting a finger by simply uttering commands to your virtual assistant – whether it's Alexa, Google Assistant, or Siri.
This technology integrates motorized blinds with voice-controlled devices via wireless connections such as Wi-Fi or Bluetooth. The OM Drapes Design, for instance, allows seamless control over your window treatments using just your voice.
Beyond convenience, these advanced blinds offer energy efficiency benefits, too. You can program them to open during daylight hours for natural warmth and close as dusk falls to retain heat indoors – making sure you make the most out of Mother Nature's gifts while cutting down on electricity bills.
Exploring Different Brands of Voice-Controlled Blinds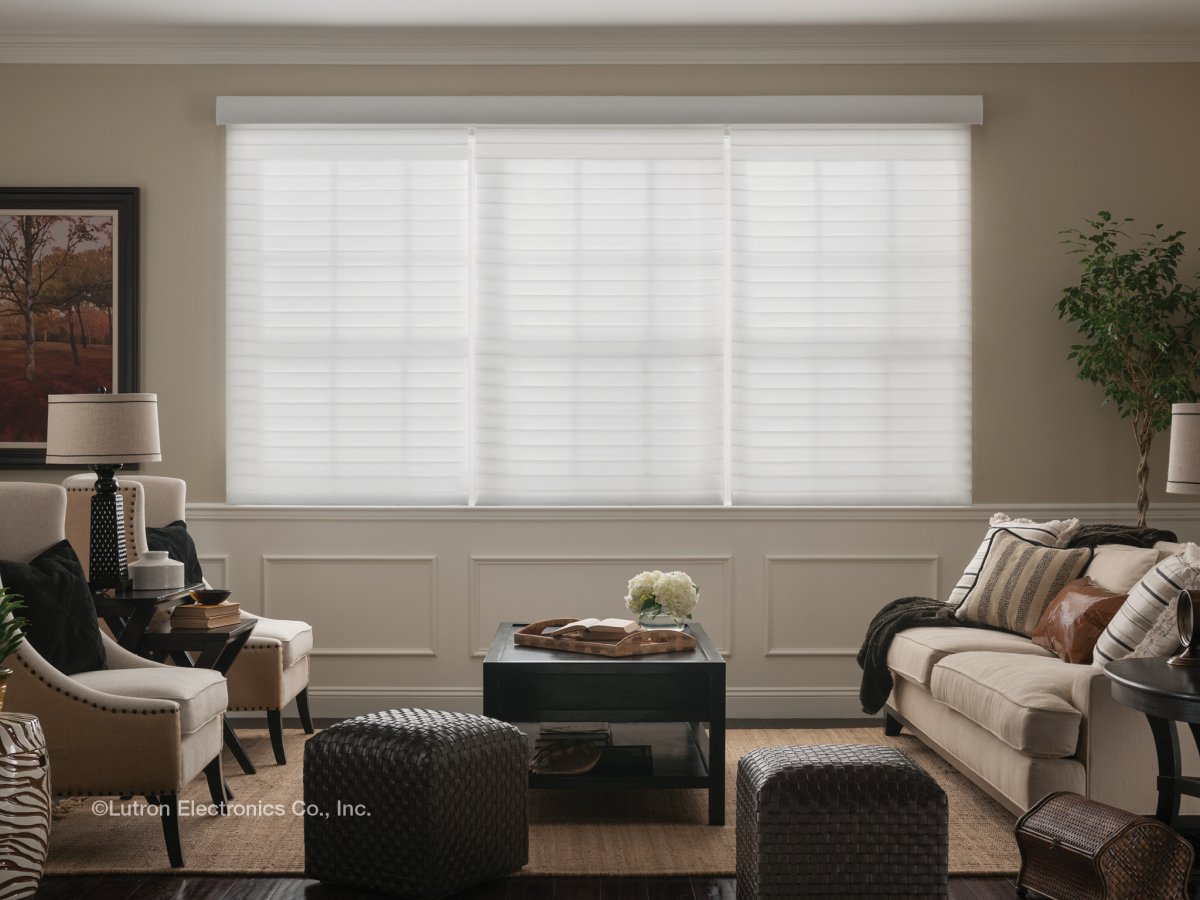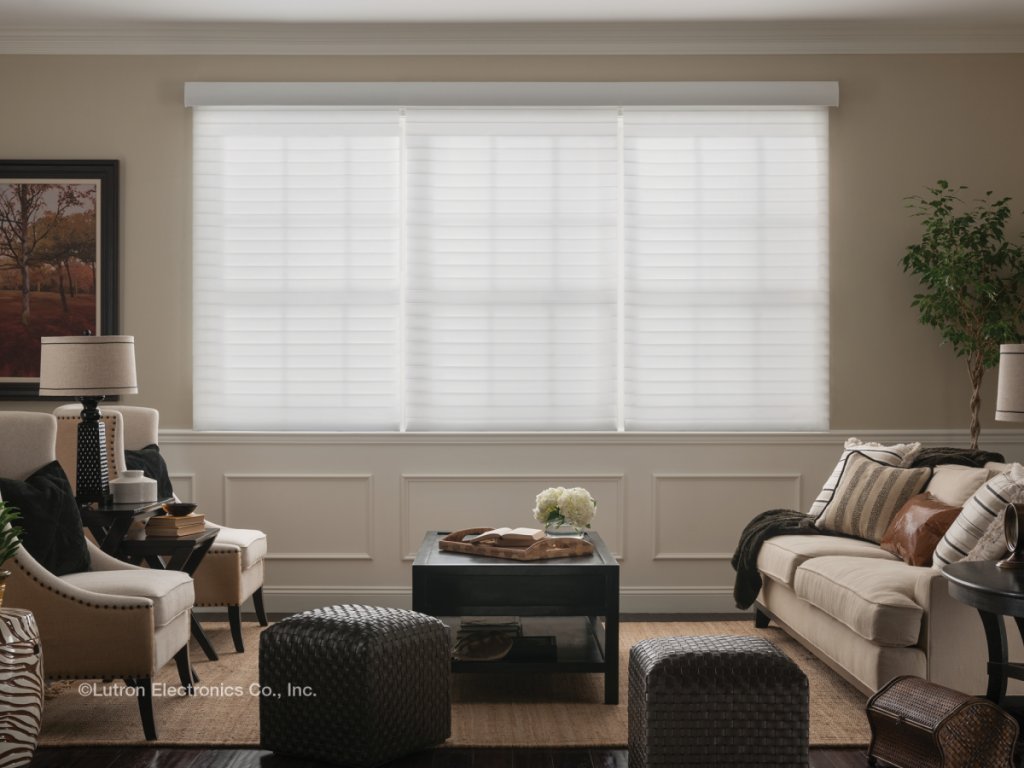 The market for voice-controlled blinds is growing, with several brands leading the charge. The leaders in this industry are Lutron, Serena Shades, and Somfy.
Lutron, a brand synonymous with quality and innovation, offers smart shades that respond to your voice commands. Their products boast compatibility with major home automation systems like Alexa and Google Assistant.
Serena Shades by Lutron also stand out because they're battery-operated – making them easy to install without professional help. They offer personalization choices, too, so you can get precisely what you require for your space.
Last but not least is Somfy. Somfy allows you to Control your home the way you want. Through Somfy TaHoma®, easily connect your Somfy powered motorized window coverings with smart devices, like Amazon Alexa and Google Assistant, as well as 3rd party smart home services, like Philips Hue, IFTTT, SmartThings, Brilliant, Control4, Crestron, and more.
Setting Up Voice-Controlled Blinds
Installing voice-controlled blinds in your home is a straightforward process with professional assistance, and here's how you can take three easy steps to simplify their setup:
Selecting Compatible Blinds
To get the best experience from voice-controlled blinds, professionals can assist in choosing blinds that seamlessly integrate with your smart home system.
Professional Installation and Connection
Before getting started, make sure your Wi-Fi connection is stable before proceeding. Experienced technicians will install blinds according to manufacturer instructions before connecting them seamlessly to your home network, ensuring a flawless setup process.
Integration With Your Existing Smart Home System
The final step involves connecting voice-controlled blinds to your existing smart home system. Professional installers will link them up with Amazon Alexa or Google Home via the respective apps and configure settings for an easy connection.
Note that while initial installation can take some time, professional assistance ensures a stress-free experience. Over time, you'll enjoy controlling your blinds with simple voice commands for increased comfort and efficiency in the home automation system.
This setup allows you to use voice commands like "Alexa, lower kitchen blinds", giving you hands-free control over natural light at any time of day – an undeniable win for convenience.
Troubleshooting Common Issues with Voice Controlled Blinds
When using voice-controlled blinds, you might run into a few snags. Don't fret; most problems can be swiftly remedied.
If the blinds aren't responding to voice commands, check that your smart home system is connected correctly and paired with them, as well as that your internet connection is stable; recalibrating the motor may help. Make sure they're properly paired and that your internet connection is stable.
Sometimes, recalibrating the blind's motor can help. This process resets it back to factory settings – think of it as giving your blinds a fresh start. Here's how you can do this:
If these steps don't work out for you or if there's a more serious issue at hand like mechanical failures or damaged parts, getting professional help from companies such as OM Drapes Design may be needed.
Remember: when in doubt about fixing something yourself – especially expensive tech items – calling an expert isn't just sensible; it saves time and avoids unnecessary headaches.
Enhancing Your Space with Voice Controlled Blinds
Imagine transforming your space into a smart home hub, where convenience and functionality merge. That's what voice-controlled blinds from OM Drapes Design can do for you.
Voice-controlled blinds give more than just shade; they provide the ease of adjusting light settings without lifting a finger. Just say the command, and watch as your room adjusts to your preference. This hands-free control makes managing sunlight in different rooms throughout the day effortless.
Moreover, integrating these advanced window treatments into other smart home systems is simple too. By doing so, it amplifies not only their function but also enhances the aesthetics of any living space by offering clean lines and modern design elements.
Besides convenience and style, another advantage is energy efficiency. When used effectively – like closing during peak sun hours – voice-controlled blinds can help reduce heat gain thus lowering cooling costs. A smarter way to live indeed.
Living smarter is just a voice command away with voice-controlled blinds. It's all about convenience, customization, and comfort.
Understanding these high-tech shades? Check. Exploring top brands? Done. You've also walked through setting them up and integrating them into your smart home system.
Troubleshooting issues won't be daunting anymore because you're armed with practical solutions now.
Above all else, you know how these nifty gadgets can elevate the aesthetics of your space while adding to its functionality. So go ahead—make life simpler!
With voice-controlled blinds in place, it's time to enjoy a truly intelligent living experience like never before.
Step one in making your home truly modern is taking the first step with us at OM Drapes: arrange an appointment with one of their expert consultants who can walk you through Somfy Motorization options, transforming your home with smooth responses that can only come with smart home technology like Somfy. Your dream of an effortless smart home experience awaits – book now to embark on a lifestyle redefined.